Site Configuration
Site Name

- If defined in the theme you can amend header text.

Site Logo

- If a logo is part of any header it can be amended instantly.

Splash Page

- If you want a splash page to appear before you enter the site define it here.

Design Theme

- Change the look and feel of your web site without changing any content.

Footer Text

- Decide on the text, if any, you want to appear on the bottom of every page.

Date Format

- Specify the format you want used for automatically created dates.

Configuration Screen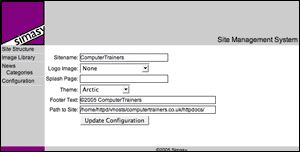 This configuration screen will allow users to control any elements that apply to the entire web site. The main option is the selection of a design theme for the site. Here the look and feel of the entire site can be changed by making a choice from the extensive Theme Library.

Themes define the screen layout, text styles and page header images that will be used throughout the site to define its character, look and feel. Using a simple template you can commission a unique design or just select one from the extensive library. One of the most powerful features of Simasy, the entire look of a site can be changed instantly without needing to alter any of its content.