WYSIWYG Page Editor

WYSIWYG

- What You See Is What You Get. See how your content will look as you edit it.

Page Title

- Define the name of the page as it is to be listed in search engines.

Page Heading

- Enter a heading to appear at the top of the page.
Navigation Text

- Define the text to appear on any navigation button.

Hide Page

- If you don't want to show the page in any navigation bar.

Search Engine Friendly

- Enter the keywords and description for the page so search engines find and list your pages as you want them.

Format Text

- The word processor-style toolbar allows you to format your text in a familiar way.

Add Images

- Add images from the Image Library into a page and resize if necessary.

Create Link

- Link to any other page within the site, another web site or an e-mail address.

Preview Changes

- Use the split screen preview option to check any changes before saving.
The page editing screen is organised as a series of tabbed panels. A general panel gives control over page specific options and the page content is edited by selecting the appropriate body, left or right tab which correspond to the screen areas defined in the chosen theme.

Intuitive controls allow links to e-mail, other web sites and other pages within the site to be created. Text is formatted relative to the theme and can also be made into a list, made bold, underlined, italicised or justified as required. Images and internal page links are inserted by selecting them from a list.

Split Screen Preview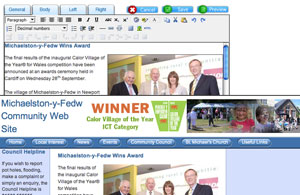 A particularly powerful feature is the ability to preview the page instantly to see what your content will look like within the site design without saving the page into the web site. The split screen feature allows you to drag the screen divider up and down to adjust the amount of screen available for the editor and preview. The editor remains in the upper part of the screen so you can made amendments and preview the page again until you are happy to commit the page.