Additional Modules

News

- Create news articles with summary and main text pages.

Links

- Create a seperate links page for your site.

Downloads

- Upload PDF or Word files for download from the web site.

Surveys

- Create on-line surveys and get feedback from your visitors.


Product Catalogue

- Categorise and list all of your products and prices.

Job Vacancies

- Advertise any job opportunities and allow on-line applications.

Case Studies

- Manage pages relating to ongoing projects.
Module Screen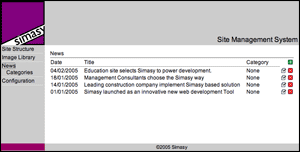 If a module is purchased and installed it will appear Simasy Control Panel. This allows the module to be managed just like any other page. Its position in any navigation bar can be amended. Many Modules have Blocks that can be added to pages in the web site. For example, the News Module has a block that displays the latest News Headlines on a page.

The Control Panel also allows module-specific configuration. For example, many Modules can be categorised for ease of display and these categories can be managed from the Control Panel. Modules that contain description or summary text have the same WYSIWYG text editor as the Page Edit function.