Site Structure
Add a page

- New pages can be added as a child of an existing one or as a new parent.

Hide a page

- If you don't want a page to appear in any navigation menus then select hide.

Delete a page

- If a page is redundant it can be removed from your site at the touch of a button.

Change navigation

- The order in which pages appear in any navigation bar can be amended.

Edit pages

- Create and amend any page using Simasy's powerful WYSIWYG Page Editor.
Simasy Administration Screen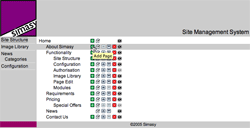 The Simasy Control Panel displays your web site's page structure. On the left hand side of the screen is the main navigation bar. This gives access to the extensive site structure, image library, authorisation and site configuration functionality. If any additional modules have been selected they can also be managed from this screen.

Simple icons give instant control over all aspects of your site structure and page navigation. These functions can be carried out at the press of a button but only by an appropriate user and, if required, not until any change has been authorised.