Creating Email Accounts in MS Outlook
Select
Email Accounts
from the
Tools
menu.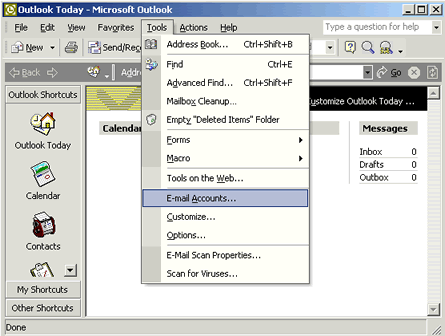 Change the option to "Add a new e-mail account" and click Next.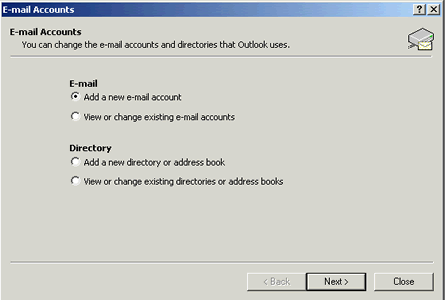 Change the option to "POP3" and click Next.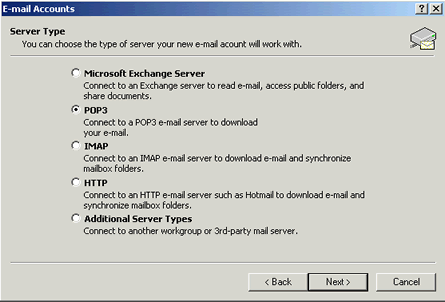 The Internet E-mail Settings (POP3) dialog is displayed.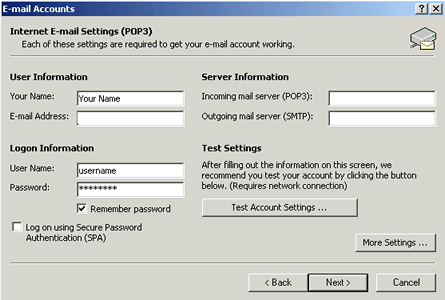 User Information:
Your name - this is the display name someone receives when you send an email. So if you put your name as "John Smith", when people get email from this account - they will see it is from John Smith.
E-mail address - this is the email address you would like used when people reply to an email you have sent them. Enter you email address, i.e. johnsmith@yourdomain.com.
Logon information:
User Name - enter the username you were sent when your email account was created by us.
Password - enter the password you were sent when your email account was created by us.
Server information:
Incoming mail server (POP3): This will normally be your domain name with 'mail.' in front of it, i.e. if you domain name is 'yourdomain.com' then this will be 'mail.yourdomain.com'.
Outgoing mail server (SMTP): This will normally be the SMTP email server used by your Internet Service Provider who supplies your internet connection. A list of popular ISPs and their SMTP servers is provided below. If your broadband supplier required SMTP authentication, such as BTInternet (*see note at bottom of page), then click the More Settings button and enter the username and password supplied by your broadband supplier.
After you have entered all the account settings click Test Account Settings.
Finally click Next and then Finish.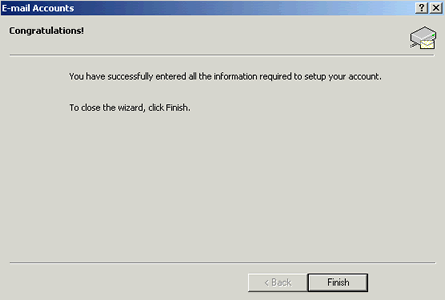 You have now set up your account .
Click the Send/Receive button in Outlook and any email messages stored on the server will be downloaded to your Outlook Inbox. You can always test it by sending an email addressed to yourself. Wait for a little while after sending it and then click the Send/Receive button and it will be downloaded back from the server.
List of ISPs and their SMTP servers
ISP
smtp server
NamesToday
smtp.namestoday.ws
AOL
Do not use SMTP
BlueYonder
smtp.blueyonder.co.uk
BusinessServe
smtp.businessserve.co.uk
(aap.businessserve.co.uk for advanced access)
BTClick*
smtp.btclick.com
BT Internet*
mail.btinternet.com
BT Openworld*
mail.btopenworld.com
Cableinet
smtp.blueyonder.co.uk
Claranet
relay.clara.net
CWCom
smtp.ntlworld.com
Demon
post.demon.co.uk
Easynet
smtp.easynet.co.uk
Freeserve
smtp.freeserve.co.uk
Genie
mail.genie.co.uk
ic24
smtp.ic24.net
Iomart
smtp.domain.ext
Lineone
smtp.lineone.net
Lycos
smtp.lycos.co.uk
Madasafish
smtp.madasafish.com
Mistral
smtp.mistral.co.uk
NamesToday
smtp.namestoday.ws
Netscapeonline
mailhost.netscapeonline.co.uk
Newnet
post.newnet.co.uk
Nildram
smtp.nildram.co.uk
NTLWorld
smtp.ntlworld.com
OneTel
mail.onetel.net.uk
Pipex
smtp.dial.pipex.com
PlusNet

relay.plus.net

Purplenet
smtp.purplenet.co.uk
Supanet
smtp.supanet.com
Screaming.Net
smtp.tiscali.co.uk
TalkTalk
smtp.talktalk.net

Telewest
smtp.blueyonder.co.uk
Tesconet
mail.tesco.net
Tiscali
smtp.tiscali.co.uk
Totalise
mail.totalise.co.uk
UKGateway
smtp.ukgateway.net
V 21
smtp.v21.co.uk
Virgin
smtp.virgin.net
Vispa
mail.vispa.com
Waitrose
smtpmail.waitrose.com
Which Online
mail.which.net
Worldonline
smtp.tiscali.co.uk
Yahoo
smtp.mail.yahoo.com
*Many users who have their broadband service provided by BTInternet have reported problems sending their outgoing mail via the BTInternet SMTP server. With BTInternet you have to authenticate the outgoing SMTP mail with username and password for your BTInternet email that was supplied by BTInternet as part of your broadband package. In some cases you may need to register your domain with BTInternet to be allowed to send emails that have the reply address set as your domain and not your BTInternet address. To do this contact BT Technical support as detailed at www.btbroadbandoffice.com and ask to register your domain for Mail Relay Authorisation. You will be asked to supply proof that you are the owner or otherwise authorised to use the domain.